About 40 minutes from Kansai International Airport, and about 60 minutes from Shin-Osaka Station, this is the gateway to Wakayama.
Great access to sightseeing spots
Approximately a 2-minute walk from JR Wakayama Station Central Exit. We are conveniently located adjacent to the station so you don't have to worry about getting wet in the rain.
Visitors coming from
Kansai International Airport
Visitors coming by JR
Visitors coming by car
Guests arriving from Kansai Airport
Approximately 40 minutes by Wakayama Station direct Limousine Bus service.
To JR Wakayama Station from Kansai International Airport Terminal 1 Building Limousine Bus stop 3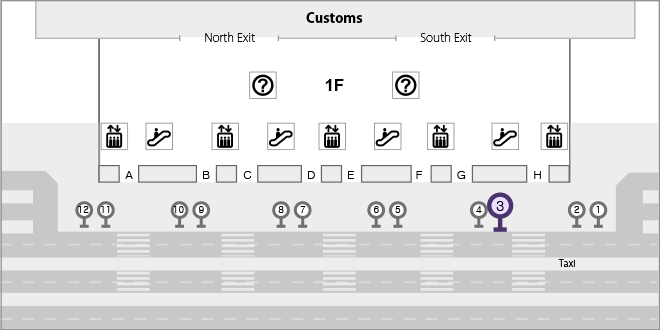 Route from Kansai International Airport Limousine Bus platform (in front of JR Wakayama Station)
*Please scroll horizontally to see the rest of the page.→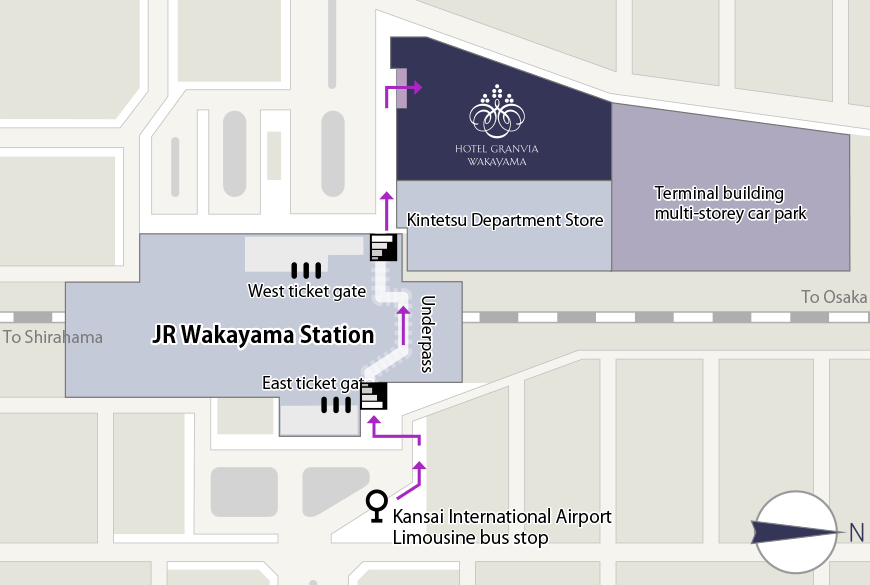 You get off the bus. And to Wakayama Station East direction.

Please pass the route bus stop

East and West contact underground passage entrance

Please down the stairs of the underpass entrance

Please pass the Kintetsu Department Store entrance

Please up the stairs of the underpass exit

Please move along the right side of the Kintetsu Department Store

The hotel entrance
Guests arriving by car
Approximately 15 minutes (about 4 km) to Wakayama city center from the Wakayama IC.
Parking Information
*Please scroll horizontally to see the rest of the page.→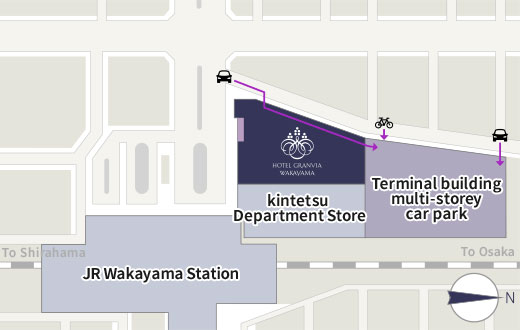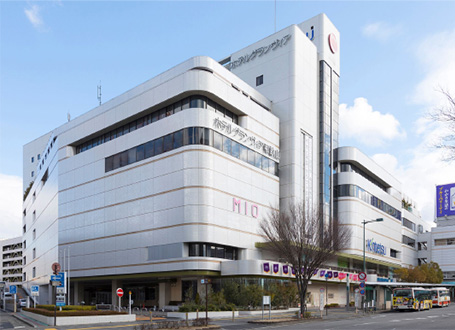 Business Hours
24 hours
Max. parking spaces
Approx. 1,000 units
Car specifications (maximum size)
Height: 2.1 m / width: 1.8 m
Length: 4.7 m / weight: 2 t
Parking lot prices
¥300 for the first hour / ¥100 for each additional 20 minutes
Maximum price
Weekdays same day (24 hours): ¥1,000
* Does not apply on weekends, national holidays, or certain other days.
Guest discount
Guests staying at the hotel
¥1,000 per night (come and go as you please)
* Parking lot prices are calculated in 20 minute increments even when parking for less than 20 minutes.
* The guest discount applies from check-in until 11:00 a.m. the following day. Please present your parking ticket at the front desk on check-in.
* Please present your parking ticket to the cashier to receive the restaurant discount.
* The guest discount and restaurant discount cannot be combined.
Multistory parking lot and hotel relationship diagram
The floor numbers in the multistory parking lot do not match the floors at the hotel, so please follow the diagram below and use the parking lot closest to your desired facility.
*Please scroll horizontally to see the rest of the page.→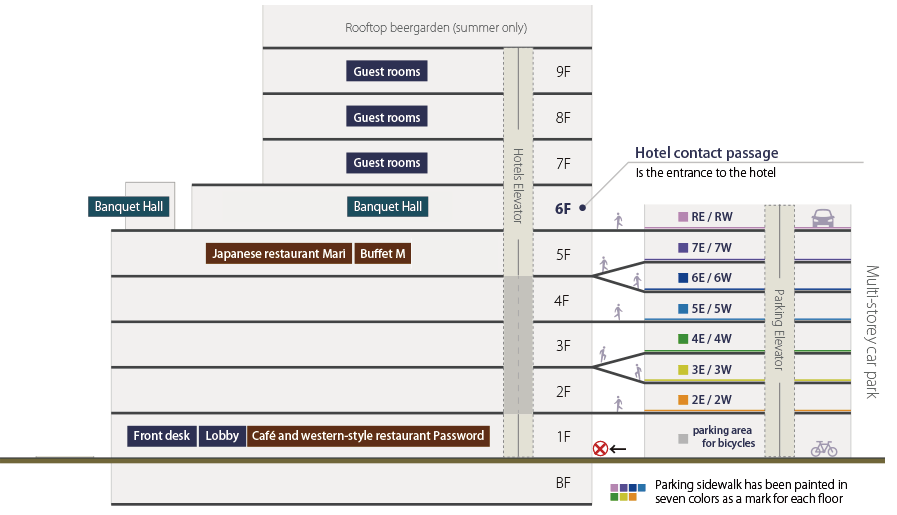 *Please scroll horizontally to see the rest of the page.→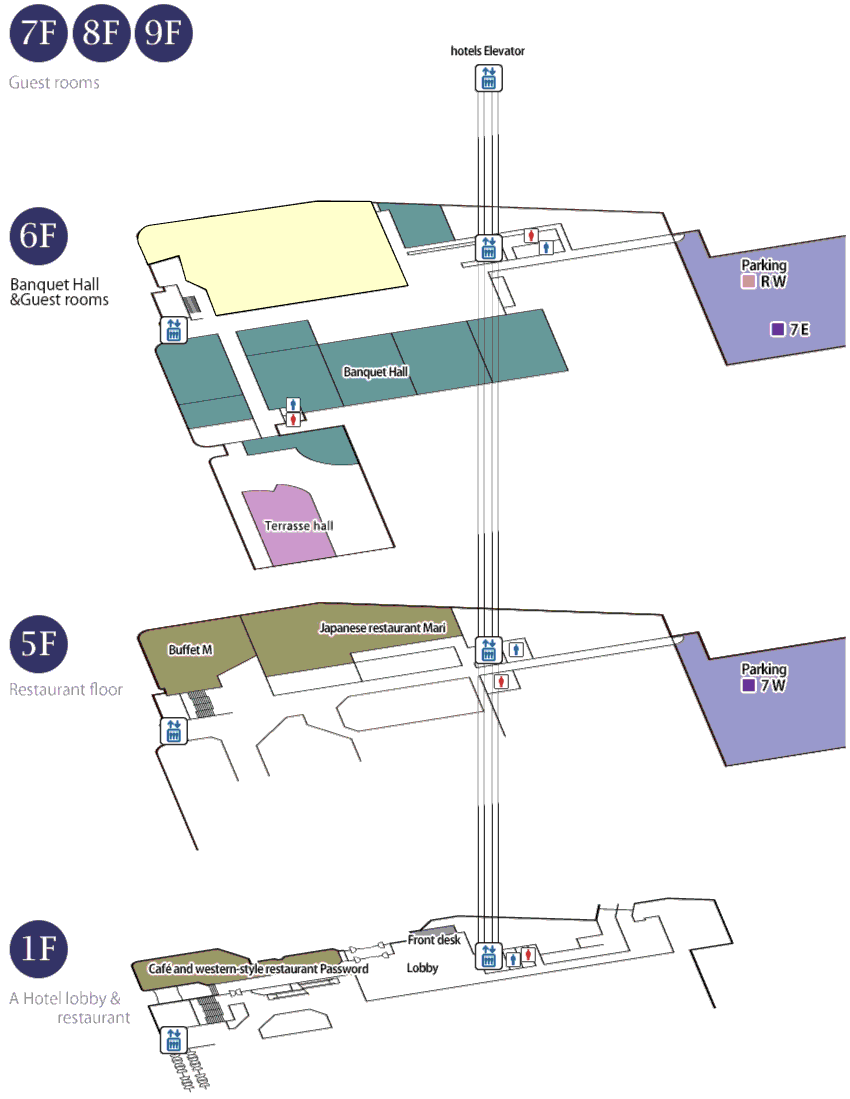 Hotel guests
Go into the parking lot, look for signs 1. and 2., and park in 7E.
Parking entrance.
Please note the pedestrian.

Moved toward the arrow of ceiling signboard

Arrive at 7E. Please parked here

Go to the contact passage

Please up the slope

Left hands end of street is the main building 6F entrance

(0:00am - 6:00am)please call your staff in this intercom

The straight move the passage

u-turn to right
(Left hand is banquet hall)

And please get off on the first floor in the elevator

When you arrive to the first floor, please move to the right

Arrive at the hotel front
Guests arriving by JR train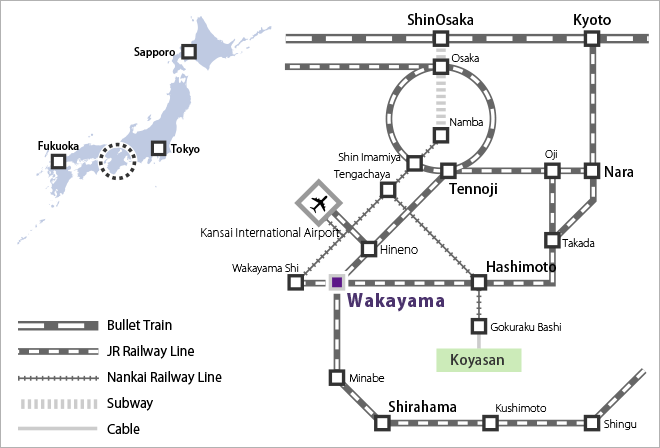 Approximately a 2-minute walk when exiting to the right of JR Wakayama Station Central Exit
90 minutes from Kyoto by Kuroshio Limited Express
60 minutes from Shin-Osaka by Kuroshio Limited Express
80 minutes from Osaka by Kishuji Rapid Service
45 minutes from Tennoji by Kuroshio Limited Express
Route from JR Wakayama Station (Central Gate)
*Please scroll horizontally to see the rest of the page.→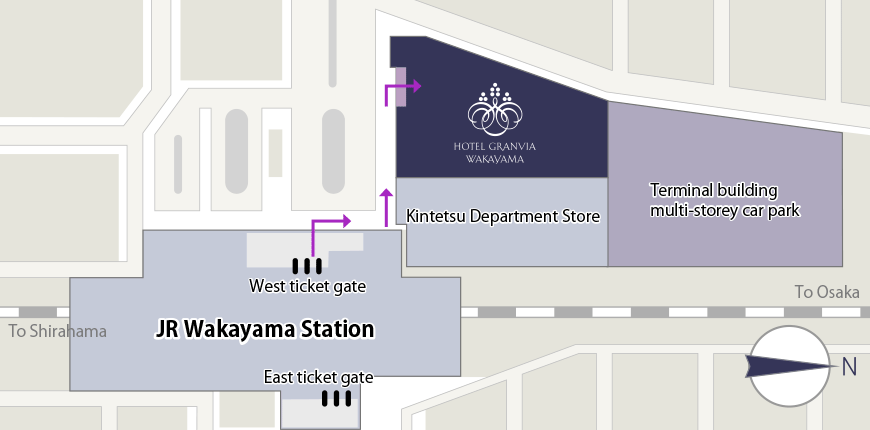 Please come out from the center ticket gate

Once from premises go out to the right direction

Please move along the Kintetsu Department Store

The hotel entrance
Scenic Railway Journeys
Explore the beauty of West Japan with JR-West Hotels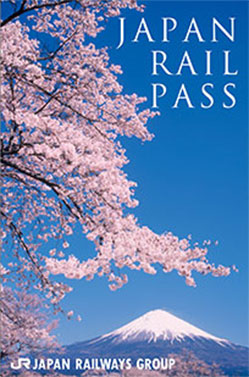 Japan Rail Pass offers you affordable, convenient and user friendly experience at one go.

Wakayama, where tradition, history, and natural ocean and mountain vistas live in harmony.
Wakayama is home to the Kumano Kodo, a group of sacred pilgrimage routes registered as a UNESCO World Heritage site.
Come discover the unknown charms of Wakayama.

Enjoy your journey in Japan with an itinerary fulfilling every aspect of your personal needs

* For more details, please visit each website